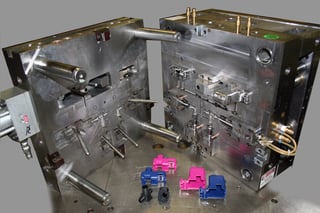 Single source procurement can be a smart, strategic decision, especially when it comes to complex manufacturing such as injection molding. By working with one company, you have the opportunity to develop a long-term working partnership that delivers multiple benefits.
With a single-source solution, you don't have to make outside arrangements to deal with your parts once they've been produced, because your injection molding company can handle every phase of your project from concept through completion. That includes assembly, packaging and other post-molding operations. These value-added services underscore a commitment to your entire project.
Expertise and Insight
Engineers who have extensive experience with plastic tooling and injection molding can:
Serve as your design team or augment your in-house staff.
Offer insight and recommendations based on their own experience, especially when it comes to perfecting the initial design. They combine their engineering skills with creative talent to understand what you want to achieve and identify the best design to accomplish that. They know the industry best practices as well as design principles, and they work with injection molding every day, so they know precisely what it takes to give you superior results.
Help you look at the part design from a manufacturability standpoint, as well as a functional standpoint, so your components meet both structural and usage requirements. That's critical, because flawed design produces flawed parts.
Help you choose and specify the proper materials. That's not always obvious, because some materials might be better for manufacturing, but not the best choice for your application.
Handle the quality certifications and procedures your project requires.
Mold building is just as important as part design. A single-source company ensures your mold builder has the same level of injection molding expertise as your design team. They will use a series of complex simulations to assess manufacturing variables that affect component quality and durability – things like wall thickness, draft and surface finish, optimum materials and, of course, cost. That way, you get the most effective and most cost-effective tool for your injection molding job.
And because the mold designer can also predict which parts of the mold are likely to wear out, they can pre-build spare parts. Planning and working ahead, protects the ongoing production quality and efficiency.
Consistent, Reliable Quality
Custom injection molding is an intricate business. Working with a single, highly trained and certified team ensures consistently proper interpretation of your project – or a skilled hand in developing your product. Quality certifications and validations ensure continuity and control throughout the manufacturing process. This is also done by utilizing a validated ERP system to track orders from incoming raw materials through production for lot traceability.
Greater Efficiency
Working with multiple suppliers guarantees inefficiencies that come from juggling multiple people, coordinating multiple production schedules, potential logistical problems and concerns about whether everyone is, in fact, providing identical quality. The more players in your supply chain, the more opportunities you have for communication breakdown and delays. Who do you call if there's a problem?
Working with one company streamlines the process at every step. Purchasing and logistics are simpler, and so is communication. With one vendor, you always know who to call. Critical details don't slip through the cracks. You save time and frustration.
As a Customer, Your Reputation is on the Line, too
It's not often you can find a business solution that brings you the kind of confidence and peace of mind you can enjoy by selecting a fully-integrated single source injection molding supplier. Making this strategic decision ensures you get more for your money.
Crescent Industries is an integrated single source solution for your plastic components and devices. Partnering with them is the best way to head-off complications, losses and other reputation-critical events. For more partnering information, simply contact us today.