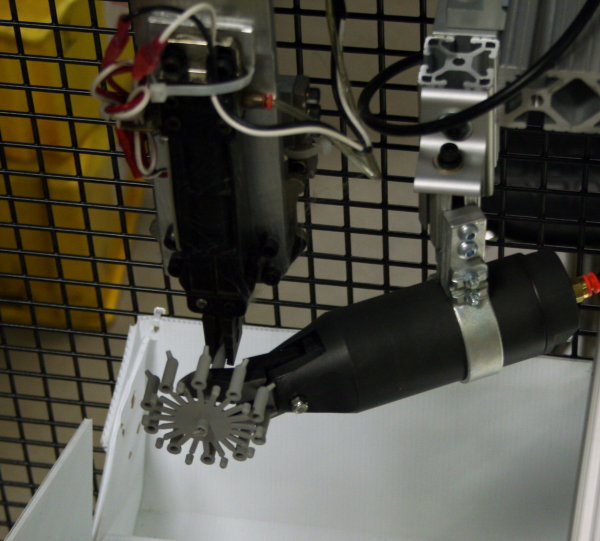 Automation within the plastic injection molding process minimizes hands on involvement which results in improved consistency, repeat performances and product quality.
Robotics is an important throughout the injection molding process. Proper utilization of automation processes can eliminate waste, deliver consistent quality components and usually within a faster cycle time.
Reduce Need for Manual Intervention in Plastic Injection Molding
Robotics is now frequently applied to plastic injection molding processes for placing inserts in a molding machine during the insert molding process.
Utilization of robotics to complete as many tasks as possible generates more time and resources for any required hands-on processes. It also makes it possible to repeat those tasks over many cycles with consistency and predictability.
Robotics is used for secondary functions in the injection molding process. Samples of robotics in secondary operations include:
Part trimming
Assembly
Packaging
Enhanced Product Quality
It is critical to have the ability to measure quality-specifications using fully programmable, automatic CNC-driven quality-inspection and measuring equipment. This makes it possible to verify critical dimensions on first article inspections and production samples or runs.
It also enables accurate and reliable data every time. This takes the human element out of the equation - which enables timely corrections in the production process.
Utilizing these robotic options is a necessary component for current injection molding techniques. Through continued development and application of automated processes and robotics your plastic injection molder can deliver consistent results with greater speed, precision, and flexibility.
Benefits of Robotics for Manufacturing of Plastic Components
Robotics is used in the clean-room for medical device assembly applications. This helps with contamination control. Robotics is also increasingly used to accelerate the production process, reduce costs and facilitate the assembly of small harder-to-handle components.
Robots have the ability to adapt to different part-types using intelligence-based features. These features can include;
Vision
Integrated force
Sensing capability
For lower-volume applications robots are capable of multitasking and automating a variety of functions within a given work-space. Robotics can also enable a manufacturer to achieve specific levels of flexibility.
This is because a robot's vision system can identify parts of different sizes which enable the unit to adapt its position to the new specifications without having to modify the existing tooling.
This helps injection molders production process by reducing:
Fixturing
Preconditioning costs
Rapid change overs between production runs/batches
Expanding a company's inspection capabilities
Trace-ability and verify-ability are among the key advantages of robotic technology - this means that once you have automated something - you have complete trace-ability as well as validation.
Automation within the plastic injection molding processing has been a worthwhile investment for Crescent Industries. We incorporate multi-functional robots during the molding and post-molding processes to deliver quality components.