When you have new projects to launch or existing production to transfer, are you only thinking about cost and quality or does the previous program launch experience with your injection molding supplier come into play? How much value do you place on working with an injection molding supplier?
While it might seem that all injection molding suppliers have similar program launch processes, the devil is in the details and you'd be surprised at how simple internal structure can make a huge impact on your experience. The role of a program management office (PMO) is to efficiently launch a program using key departmental heads in a team setting with a proper process and supported procedures to ensure success.
The Team
All injection molding programs will touch different areas of responsibility and have different levels of complexity. Developing a program management office (PMO) requires that each department and function of the program launch is represented by the appropriate team member. By accounting for the most complex scenarios and programs, the injection molding supplier won't have to make major changes once this new process is developed.
Building out the team with department heads or position leads in the core areas of a program launch, ensures that the appropriate areas will be covered, and the criteria required will be met.
At Crescent Industries, the team is broken into the following roles;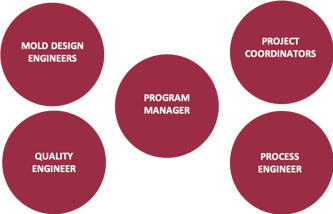 MD – Mold Designer
PE – Process Engineer
QE – Quality Engineer
TM – Tooling Manager
QT – Quality Technician
DC – Document Control
PMO – Project Management
QM – Quality Manager
PM – Production Manager
SC – Supply Chain
The Process
There aren't too many different methods to a program launch for injection molding, it starts with a part design and ends with production. The process of going from part to production will always include some type of DFM in the beginning to ensure that the design intent and functionality can be met. While some injection molding suppliers have a relatively quick internal DFM, others like Crescent Industries heavily rely on their DFM with mold flow simulation to ensure the best likelihood for success. This not only puts the customer at ease but also identifies potential issues early to minimize the risk and increase the speed to market. There's not much worse than making costly changes in production that could have been easily identified in the design phase. Therefore, a supplier with a robust engineering team is a huge benefit, invest the time early and do it right.
Breaking down each milestone of the program launch is a necessity but taking it a step further into a process flow with decision diamonds can greatly reduce inefficiencies. Crescent Industries has a robust program launch process that exceeds the standards in injection molding.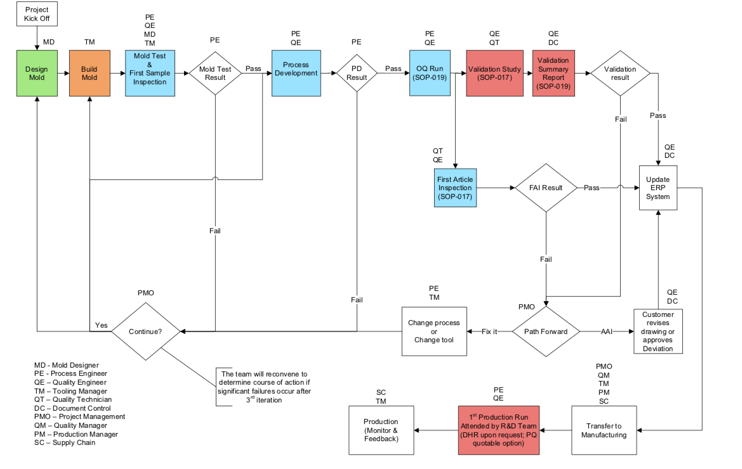 By assigning an individual's title to each step of the process creates a level of ownership to that milestone, each team member is aware of their level of responsibility throughout the process. As a program walks through the process, once internal decisions need to be made on direction the entire program management office (PMO) works together to make the decision.
The Benefit
The program management office (PMO) is intended to standardize processes and improve efficiencies, for injection molding suppliers that can mean a difference of "weeks" on a standard program launch.
How Can A PMO Help?
Clearly defining issues and support in developing strategies to address them
Getting from design to production the most efficiently, reducing waste and improving service
Overall program launch process management
Help managing change and decisions
Strategic Alignment
With all of the steps, milestones, tasks and dates involved in an injection molding program launch there are a lot of opportunities for inefficiencies and potential major setbacks. If each department head is only focusing on their own task, it loses the sense of alignment with the rest of the team. The PMO is created to unite the team together in a strategic approach to launching an injection molding program. Without this alignment, there can be devastation to a program launch in turn setting the OEM back with their expected initial build dates.
Instead of having all department working on their own deliverables individually, the PMO unites the groups into the common goal of launching a successful and efficiency injection molding project. When OEM's are working with injection molding suppliers, the focus is commonly on initial production samples. The faster to "first shot" the faster the OEM can begin functional testing on their finished product. While there are some work around like Crescent's additive manufacturing capabilities, you can only go so far with prototypes before full production samples/orders are required.
Speed to Market
Shorter lead times, additive manufacturing samples and quick turn tooling has been the demand by OEM's in various industries. As companies continue to try and get their product to market before competition, the PMO assists in the production program launch. This allows the customers of Crescent Industries to potentially gain initial market share for their products and increased revenue at launch.
Whether or not your current injection molding supplier is using a program management office (PMO) is something worth considering if you're looking to gain efficiencies in your launch process. By using a supplier with this type of robust team, process and procedure you will see a reduction in total lead time and faster speed to market.
Sign up for our newsletter to stay up to date with our weekly posts