Deciding to switch product or material vendors in the medical device manufacturing market is never an easy feat. But when done correctly, the outcome can have far more benefits than the company originally imagined.
This was certainly the case for one large pharmaceutical packaging company based in North America that chose to work with Crescent. The company wanted to switch vendors for their new injection molded tub used for sterilizing, filling, and shipping ready-to-use (RTU) containers.
The injection molded tub is the anchor for this company's RTU platform. Various types of containers — vials, cartridges, and syringes — are secured in packaging and then contained using this standardized tub as they process through flexible filling and syringe filling lines. Needless to say, the tub's standardization of dimensions and sterility are vital to its ability to be compatible with equipment from multiple vendors.
Problem: Streamline Manufacturing Process for Plastic Part



Transporting large medical equipment like these tubs can be challenging when dealing with a fractured or stretched supply chain. The company's goal was to streamline its supply chain process by working with a medical device contract manufacturer that could help them save on transportation costs. Hoping to simplify operations.
Crescent's promise to provide free truck deliveries for customers anywhere within 100 miles meant this company could eliminate the need for a third-party transportation carrier. While this service is a major perk, by the time this project was complete, Crescent proved valuable for a plethora of other reasons far beyond geographic proximity.
Solution: Purchased Major Capital Investments

When Crescent sets out to provide value for its customers, not much will get in the way of their problem-solving commitment.

Crescent has both a general molding facility and a certified ISO (100K) cleanroom manufacturing facility that uses scientific injection molding principles, state-of-the-art injection molding machines and automated quality inspection equipment. Even with its state-of-the-art facilities, molding the company's tub required larger presses than Crescent currently had. Without hesitation, Crescent invested in a new, higher-tonnage injection molding press to tackle this large project.
Help from Robots
The next investment Crescent made for this project was pretty cool. Ever heard of a " cobot?" It's an industrial-grade collaborative robot that is safe to operate in close proximity to humans. Cobots are more flexible than traditional industrial robots, meaning they can be used for various tasks.
Crescent purchased their new cobot specifically to remove the molded tubs from the mold and place them on conveyor for packaging. This investment meant less human handling during the molding process, decreasing both bio-burden and the risk of contamination. The application of the tubs — housing containers filled with medicine to be used directly by patients — meant cleanliness was a top priority.
Once the tubs were removed from the press, Crescent's cobot stacked them onto the conveyor. Once enough tubs were stacked, the conveyor moved to its next position to prepare for another stack. Then, the stacks of tubs were packaged and ready for customer delivery.
Resin Material Improvement
Next up on the list of capital investments Crescent made for this project includes one that reduced contamination risk even further. These tubs naturally attract particles due to static electricity. To help minimize this, Crescent took the customer's material requirements to Crescent's usual resin distributor. The distributor recommended adding an anti-static component.
Crescent knew that adding an anti-static to the tub's usual resin could not alter the finish color of the tubs. Crescent took advantage of their resin supplier's compounding expertise and had them add both the anti-static additive and the colorant needed to match the color of the usual tubs.
This move again streamlined production for the customer by consolidating the resin manufacturing and colorant into one vendor. At the same time, Crescent decreased the amount of handling the resin would undergo and reduced the likelihood that finished tubs would come in contact with contamination or foreign substances. Or course, before moving forward with the production of this new resin compound, Crescent checked with the customer for approval.
Tooling Improvement
Crescent's innovation didn't stop with rethinking the resin. By leveraging its in-house mold design and revision expertise, Crescent also made improvements to the tooling to reduce flash at the parting line on the molded tubs. This resulted in the current single-cavity, Class 101, hot-runner mold.
Results: A Complete Injection Molding Solution
Through its commitment to providing more value and exceeding customer expectations, Crescent was able to streamline this large pharmaceutical packaging company's molding process in a way they hadn't imagined possible.
What started as a vendor change due to the convenient location turned into working with a vendor that purchased new capital equipment, implemented a resin material upgrade, improved existing molds, and combined cleanroom manufacturing injection molding facilities with in-house automation and design teams. All of these value-adds worked together to reduce the risk of contamination and enhance the tub mold production process overall.
Better yet, Crescent's high-throughput cleanroom manufacturing line guarantees that this customer will be able to meet the increasing demand for this tub over the next few years. Crescent's investments to improve this tub makes it possible for this product — and others like it — to streamline RTU pharmaceutical filling lines. Such will help the medical industry, as a whole, meet current and future medical device demands. This is what working with a medical device contract manufacturer can do for you.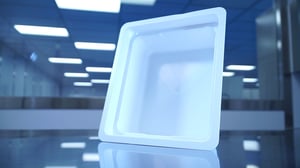 Conclusion: Work with an Experienced Injection Molder

Crescent is committed to providing value-add solutions for all customers who choose to trust them with their injection molding needs. By choosing to work with an experienced medical device contract manufacturing expert like Crescent, pharmaceutical companies like the one mentioned above can rest assured knowing their needs and goals are in secure and solution-oriented hands.
From the medical to aerospace industries, Crescent is the customer-oriented molding manufacturing provider you can trust with your products — from small to large, simple to complex. Get started today by contacting Crescent to learn more.