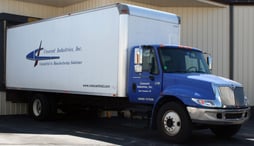 Supply chain management encompasses the planning and management of Sourcing, Procurement, Conversion and Inventory Management.
It also embraces the crucial components of collaboration and coordination with suppliers and customers.
The key supply chain processes are:
Customer relationship and customer service ma
nagement
Order fulfillment
Manufacturing flow management
Supplier relationship management
A lot of companies are starting to see their supply-chain as a way to not only reduce cost - but also drive revenue growth and competitive advantage.
This helps launch new products on schedule while ramping-up production quickly. Manufactures are realizing a communicative, collaborative relationship with their injection molder is critical to success.
Companies know that loyal suppliers are more likely to provide preferential levels of service to them at times - most significantly when materials or components are in short supply.
Suppliers help maintain the brand of their customers. Always make certain your injection molder has proper quality certifications to meet your product specifications.
Effectively Manage the Total Cost of Product
The evaluation process includes whether or not a supplier was able to help its customer manage or even better - reduce the total cost of the product. The best suppliers are willing to give an honest appraisal of your project and provide feedback for cost and manufacturability.
An Enterprise Resource Planning (ERP) system is critical to maximizing efficiency and profitability, and is one of many solutions for the plastic injection molding process. ERP systems are integrated software programs for internal and external information sharing across all aspects of your organization including accounting, manufacturing, quality and customer relationship management.

In the context of a plastic injection molding manufacturing facility, ERP may be used to facilitate:
On time delivery
Eliminating unnecessary down time
Ensure compliance with industry and government standards
Track and trace products through the supply chain
Lot number tracking
For example, a failure of a particular lot can be traced to a production team or individual and process improvements and/or additional training can be implemented. T
Inventory Management Solutions for Plastic Injection Molding Components
Finding the right inventory process for injection molded components is crucial for saving money.
Kanban Shipping
Adopt the Just-In-Time Approach
Try Blanket Orders
Following Kanban
This is a system of alerts designed to move or produce products. This approach puts a limit on inventory buildup. When the Kanban is full no additional product can be moved.
The central tenet of Kanban is communication.
Adopt the Just-In-Time Approach
The Just-In-Time approach promotes inventory management partnered with the Kanban technique. The Just-In-Time approach was created out of the idea that keeping inventory is inherently wasteful. Just-In-Time calls for a business to use the dynamic information given by Kanban to place component orders with a quick turnaround schedule. This is ideal for companies with particularly large inventories.
Blanket Orders
Blanket orders are intended as a system of streamlining the Just-In-Time approach. Blanket orders require customers to specifically schedule several deliveries at different points in time.
Crescent Industries focuses on providing an integrated single source manufacturing solution for your plastic injection molded components or devices. We provide customer service support, track raw materials and goods through the manufacturing process and inventory management solutions through the utilization of our validated ERP system. Our flexibility allows our customers to choose the supply chain arrangement that best suits their requirements. For more information on our injection molding services, please go to www.crescentind.com.