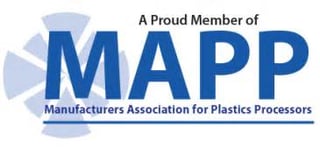 Injection molders staying on the front edge of the industry already know how important it is to attend the conferences and educational events for their industry and why it is essential to interconnect with these industry networks.
Injection molding and plastics manufacturing companies provide advancement and excellence to the future development of this industry and market.
Beginning on October 11 and going through October 13, 2017, located in Indianapolis, IN at the Downtown Marriott
According to Norm Forrest, CEO of Dymotek;
"The absolute best plastics conference in the country. The sharing of best practices through networking with the best-in-class in the industry is unmatched. Once again my associates and I are recharged to bring vital positive impact to our company. No other conference can boast how my team members fight for the chance to attend this event."
This year's theme - AN UNCHARTED JOURNEY - is designed to inspire, motivate, and educate processors on how to positively influence the people around them.
Growing and gaining skill makes us better, and is not something that just happens. Good leaders continually work to better themselves, and the 2017 Benchmarking & Best Practices Conference is design exactly for this purpose.
No Nonsense Injection Molding Business Exchange
The goal is to help plastics companies improve their operations and tactics in order to impact their bottomline and better serve their customers. Past attendees of this conference will testify that this is the best format in America for executives to learn how to do just that.
The conference is focused on best practices with leading benchmark presentations derived from the industry's best known sources of statistical information.
Known as the absolute best benchmarks in the industry, these presentations identify and correlate profitability to operational behaviors, market choices, and more.
Business leaders have shown us that we posses the ability to quickly adjust to marketplace conditions and it is mandatory to continually improve operational efficiencies.
The core of this year's Benchmarking and Best Practices conference will address:
Leadership
Operational Best Practices
The latest Financial Benchmarks
Sales and Marketing, and
The Impact of Employees on the Bottom-line
Plastics and Injection Molding Professionals Speak about Manufacturing
With over 550 plastics professionals expected to meet in Indianapolis, IN, on October 11-13, the Conference Committee has created a schedule loaded with presentations such as:
Best practices,
Leading-edge benchmarks,
Expert presentations
Manufacturing Advancements
This is also followed with the most advantageous networking opportunities available anywhere in the industry. For those seeking to advance in the injection molding industries; networking, communication and obtaining opportunities to edge forward into market connections and project partners is mandatory.
Becoming better is not something that just happens; good leaders continually work to make themselves better, and the 2017 Benchmarking and Best Practices Conference delivers on these goals.
Members of Crescent Industries Management Team attend and support the conference every year to remain current in the essential technological breakthroughs of the injection molding industry to provide the best support and assistance for our customers' plastic injection molding requirements.