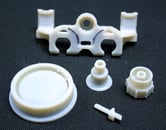 The Polyjet 3D printing process requires jetting multiple layers of a curable liquid polymer directly onto a build tray.
The 3D build preparation software automatically performs the calculations that deliver correct placement of the polymers and support materials from your 3D CAD file.
The printer will jet and instantly UV-cures tiny droplets of liquid polymer. This means that very fine layers are accumulating on the build tray creating one or several extremely precise 3D parts or models.
Sometimes overhangs and complex shapes will mandate more support material. This will clean internal voids and other finer details that can be missed, or damaged by water-jetting. This approach delivers easily removed material simply by applying water by hand, or by using a solution-bath. This delivers instant handling and use capacity immediately with no curing required.
Extraordinary detail, precision and surface smoothness are easily accomplished. Other benefits of this 3D printing technology include:
The creation of detailed, smoothly produced 3D printed parts that deliver final-product aesthetics
The achievement of extremely complex shapes, intricate details and delicate features of parts
Production of accurate molds, fixtures, jigs and other manufacturing tools
3D Printing Materials for Polyet Printing
Digital ABS
All of these materials are capable of creating realistic, precise prototypes and tools that are extremely tough and heat resistant. These materials are used to simulate the standard ABS plastics. This is perfect for creating functional prototypes including but not limited to manufacturing tools, casings, snap-fit parts for high or low temperature use, mobile phone casings, electrical parts, engine parts and covers - and are completely appropriate for all simulated parts requiring shock absorption and high-impact resistance.
High Temperature Materials
High temperature materials include a combination of exceptional dimensional stability and extreme heat resistance. These materials simulate the thermal performance of engineering plastics. They are ideal for testing applications like hot-air flow or hot-water flow for pipes or faucets. It also includes high definition parts that require excellent surface quality, exhibition models under strong lighting conditions, as well as heat resistant jigs and fixtures.
Post-processing of these materials include metallization processes, gluing and painting.
Transparent Materials: RGD720 & VeroClear RGD810
RGD720 – is the material used for standard clear plastic simulation. Combining high dimensional stability and surface smoothness.
VeroClear-RGD810 – is a rigid material that is virtually colorless and features proven dimensional stability for general purposes. This material provides for fine-detail model building and visual simulation of transparent thermoplastics such as PMMA.
Both transparent materials RGD720 and VeroClear RGD810 form and fit testing of clear or see-through parts like: glass, eyewear, lighting covers and light-cases. It requires visualization and application of liquid flow, color dyeing, medical applications, artistic and exhibition modeling.
Rigid Opaque Materials: VeroGray RGD850, VeroBlackPlus RGD875, VeroWhitePlus RGD835 and VeroBlue RGD840
This material delivers excellent detail visualization in gray, black, white and blue colors. It prints a smooth, attractive prototype for testing fit, form and function of parts and moving components, or complex assemblies. Accurate jigs, fixtures and manufacturing tooling can also be accomplished.
Polypropylene-like Materials: DurusWhite RGD430, Endur GD450
Durus is the original simulated polypropylene material. It offers flexibility, snap-fit applications and living hinges. The toughness and strength of the 3d printed parts will feel and look just like final polypropylene products.
Endur material embodies the chemical characteristics and composition given to models and prototypes. It has a polypropylene look and functionality, making the material tough and impact resistant
Rubber-like Materials: TangoBlackPlus FLX980 and TangoPlus FLX930, TangoBlack FLX973, TangoGray FLX950
These materials offer varieties of elastomer characteristics, tensile strengths and tear resistance with a Shore scale A hardness. Some of these benefits include:
Soft-touch coatings and non-slip surfaces for tooling or prototypes
Medical devices
Knobs, grips, pulls, handles, gaskets, seals
General industrial applications
Ideal for models that are likely to be exposed to long use or rough handling
Crescent Industries is an employee-owned, industry leading company that provides 3D printed parts from a Stratys Polyjet 3D printer. For more information, contact us at Crescent Industries today.
(source information http://www.stratasys.com/3d-printers/technologies/polyjet-technology, http://www.stratasys.com/materials/polyjet/)