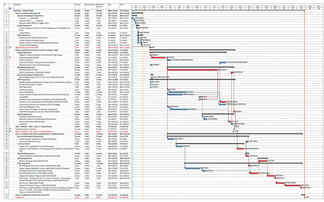 Project management for injection mold building is essential. The project management office (PMO) is comprised of a group of professionals who focus on defining the scope and maintaining the standards set for any injection mold building project to be accomplished by the company.
The goal of an effective PMO is to achieve all benefits from the standardized project management processes, methods and policies. The PMO administrators are tasked with sourcing all required documentation, metrics and guidance for the execution of all project requirements.
The PMO follows every project related task from start to finish. This office provides a strategic tool for keeping decisions and implementations moving in a consistent manner toward every project goal. This is accomplished by detailed reporting on all problems, activities and requirements involved.
Reducing Risk, Preventing Errors for Injection Mold Building
An effective PMO will engage in a manner that controls budgets, keeps projects on schedule, and will assure compliance with every mandate and requirement - be it regulatory or client based. These actions serve to assure a reduction of risk and the prevention of errors.
Effective project management delivers project updates and information to the internal personnel and acts as a go-between with the client and the company. This decreases confusions and increases successful project completion. When done well - this process helps to grow the company, and increase profitability. It increases accuracy, and confirms the order of mandatory activities for increased speed and efficiency. They keep close tabs on all checks and balances.
Project Team Responsibilities for Effective Management
Time management is a core issue for quality control and efficiency. Effective time management involves schedules that effect deadlines every team member can accomplish within appropriate levels of quality control. Time calculation needs to include room for unforeseen issues and time to solve these problems. The ability to accurately assess all potential risks is mandatory. These risk assessments are reported and calculated into the schedule in a manner that does not compromise either performance, or quality. These risks and solutions are communicated to all those able to review and analyze patterns, trends and opportunities. After assessing results, opportunities to improve on this process are then offered as well.
Making use of what is known as the Gantt chart is how most PMO teams track activities and time assessments. Each task is reflected by its own bar and the position and length of this bar reflects start and end dates.
This means it only requires a glance to see:
What the various tasks are for a project
When each task begins and ends
How long each task is scheduled to last
Where tasks overlap with other tasks and by how much
The start and end date of the whole project
In essence, the Gantt chart shows you what has to be done and when
Project Management for Injection Molding Product Delivery
The manufacturing of custom injection molded products requires great attention and planning. The work of a project manager always involves communication ahead of any other aspect of project management. This communication occurs between all involved - design engineers, clients, production teams, mold builders, research and development experts and manufacturing engineers.
This constant communication helps the team to understand the requirements by customers and develop better methods to deliver products on time. The key to effective coordination for injection mold building is project management.
Project management is coordination. This begins with scheduling tasks from initiation of the project to the time the project is handed to the customer. Project management bridges communication between internal and external contacts regarding project status and updates. All the scheduling of tasks whether design or manufacturing - is done by the project manager.
Scheduling and allocation of tasks remains the core duty of the project manager. The tasks are identified during the requirement assessment stage. This management also demands effective allocation of all the various tasks to the many different people within the organization. Evaluation is also a mandatory requirement. A project manager needs to evaluate the progress of each task and report to the customer or the management of the organization. Project managers are responsible for implementing all of the decisions of the PMO.
At Crescent Industries, the project management office is responsible for managing new mold builds, tool transfers and communicating project status, both internally and externally. They look at the scope of the project, the cost and the delivery utilizing Gantt charts and a web based project manager server. Click to learn more about how Crescent Industries can help you deliver a quality component or device to market on time.