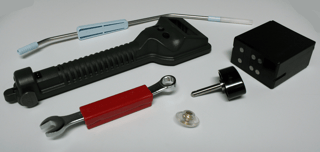 Insert molding is a manufacturing process that uses advanced injection molding technology to combine thermoplastic and metal components into diverse finished parts. This process has transformed modern-day manufacturing.
The automated machines of today place various metal inserts into specially designed molds. These molds are surrounded with thermoplastics in order to create a custom product. This enhanced efficiency creates insert molding that is used today to manufacture products for a wide range of applications. Some of these applications include:
Medical
Pharmaceutical
Defense
Safety
Aerospace
Electronic and
Consumer industries
The insert molding process is used for low to high volume production runs.
Convenience and Capability Produce Metal Inserts
This insert molded part can be inserted into the mold automatically - or by hand. The moment this plastic gets injected into the mold, it begins to fill in the features around the insert. This creates an assembled and incorporated component that is immediately ready for use.

The insert molding process also causes these components to be more tightly secured within the plastic resin. It also helps to strengthen the part's reliability. Another benefit - resistance to vibration and shock.
Once automated for this process - machines insert the metal parts into the specially designed molds. Then they wrap the inserts with thermoplastics which create the custom product.
In-house insert productions mean that outside vendors are no longer required. This saves both time and cost. Deciding to outsource insert production means needing to make certain you choose a manufacturer with ISO and ITAR certifications. This is required for verification of proper monitoring, and for the highest quality product possible.
Why Insert Molding for Plastic Components
Insert Molding combines metal and plastics. It provides multiple combinations of materials and components into a single unit. This process also makes use of engineering plastics for improved wear resistance. It also provides tensile strength and weight reduction. It uses metallic materials for both strength and conductivity.
Insert molding also reduces assembly and labor costs. It reduces the size and weight of the part, while improving component reliability. Insert molding delivers improved part strength and structure with enhanced design and flexibility.
Injection Molding Insert Uses
The variety of inserts that can be molded into plastic components include:
Screws
Studs
Contacts
Clips
Spring contacts
Pins
Surface mount pads
Rivets
Threaded fasteners
Bushings
Tubes
A diversity of magnets
These are all made from materials such as brass, stainless steel, bronze, aluminum, copper, Monel™ and nickel/nickel alloy.
Insert molding components can be used in housings, instruments, knobs, devices and electrical components. This creates a wide variety of applications in the medical, defense, aerospace, electronics/electrical, industrial and consumer markets.
The Process
The process itself is the same process used during injection molding. Solid pellets of raw material become melted and are extruded into a mold. This plastic is solidified - the press opens - and the molded parts are ejected.
Insert molding uses the same materials as injection molding does. For extremely high heat - engineered thermoplastics are used. High temperatures are successfully implemented and the components can then withstand very harsh environments.
The insert is then placed into the mold - either by hand, or automation. As the material flows into undercut features in the insert, the insert is securely anchored.
Many injection molding manufacturers utilize vertical injection molding presses which use gravity to aid in the insert molding process. This happens by keeping the insert in position during mold closing.
Most vertical presses have a feature that utilizes multiple bottom mold halves to be used with one top half. While one bottom half is molding with the top, the other bottom is available to be loaded with an insert.
Multiple bottom halves allow inserts to be loaded in one bottom while others are molding, which means press time is significantly reduced.
Important Considerations
Insert molding costs include the insert and tooling costs. Inserts need to withstand the injection molding process as some pressures and temperatures can damage them.
Design solutions help shield the insert while still providing the full benefits of insert molding. This helps finalize the design. All of this requires decades of experience.
This concept is further developed by utilizing a few basic considerations:
Provision of means to hold the insert during the molding process
Bosses or undercut features providing additional retention strength within the molded part
Utilization of a company that provides insert molds that determine which specific components and technologies are combined into a single component
Crescent Industries' provides custom injection molders that perform insert injection molding services. Engineers will guide you through the steps of the insert molding process.
These steps include designing a prototype, building a build, machining the inserts and complete production.
At Crescent Industries we offer precision Swiss screw machined solutions for inserts in various materials as well. To learn more about Crescent's insert molding capabilities, please click here.