There's a difference between project management and engineering management, and in the field of injection molding of plastic parts, best practices require a bit of both. This means that it's crucial to manage people and tasks while using specific knowledge and skills to deliver high-value parts to clients.
If you're a company seeking the right injection molding service provider, that provider needs the right technology, people, and skills. There are two more requirements for those who seek optimal results:
A highly qualified and effective project team to manage your project from start to finish, and
An organization that ensures the team works at peak efficiency and in accordance with best practices.
At Crescent Industries, both these aspects are managed by an internal Project Management Office or PMO. This is a strategic group that oversees project leaders and their teams, ensures open and effective communication with clients, and acts as the clearinghouse for best practices for project requirements (quality and compliance, budget, timeline, etc.) as well as manufacturing efficiency and results.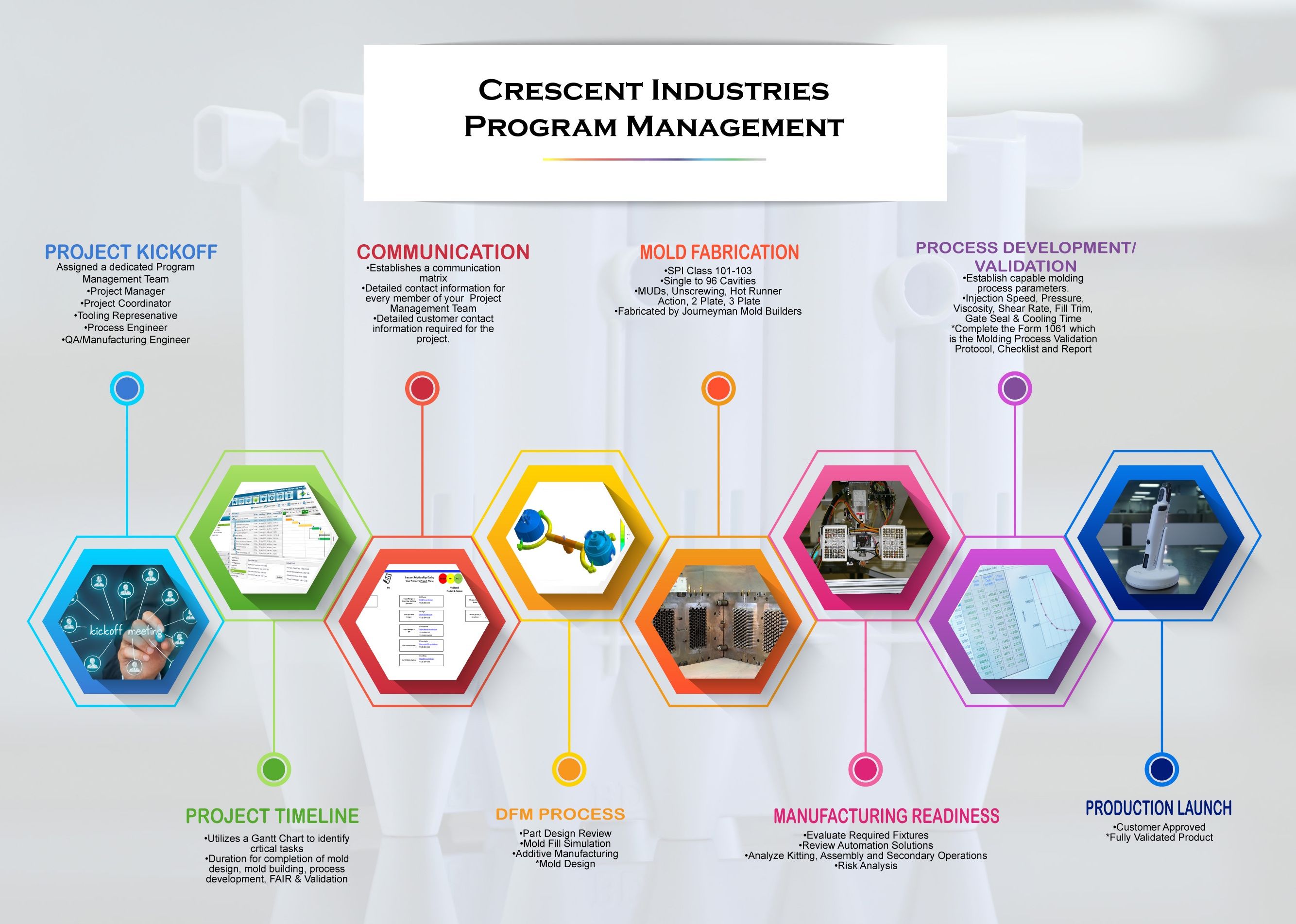 The PMO establishes a hierarchy of tasks for effective and efficient execution by establishing critical paths for project completion and establishing task assignments. It also determines which tasks are sequential and which are interrelated and ensures the consistent application of best practices from project kickoff to completion.
The PMO includes a project manager, who is responsible for tracking and reporting against the overall scope, cost, and duration of the project to ensure the team meets the agreed-upon schedule. This includes coordinating leaders within a project, such as a mold designer, process development engineer, manufacturing support leader, and quality engineer, each following the appropriate sets of requirements and best practices. For more details on project management and teams, view the webinar, "Steps to Launching an Injection Molded Product."
PMO to Manage Risk
A major benefit of having a project management office for your new injection molded project is to reduce risk, prevent errors, and address any that arise. Risks can come in many areas, including budgets and timelines, compliance with standards and regulations, engineering and design practices, and quality measures relating to the manufacturing process or finished goods. The project manager uses various tools to manage and account for all these factors.
The project manager mitigates risk by managing every step of a project by communicating with design engineers, clients, production teams, mold builders, research and development experts, and manufacturing engineers – and fostering communication between those parties, too.
Consider the priorities of different participants in the process: The client wants timely mold creation, efficient manufacturing, and on-time delivery. The tool-maker wants to produce an injection mold that performs efficiently and flawlessly (e.g., design for manufacturing). Meanwhile, the manufacturing leader is focused on the machines, people, and resources to efficiently turn pellets into parts.
Mistakes can and do occasionally happen because injection molding involves highly complex interactions involving material properties, the physics of molding, process intricacies, and the constraints of time and budget.
When all parties share a single-minded focus, unforeseen issues are prevented, there are fewer last-minute changes…and your project is a success.
Visit Crescent Industries website for more information on our services and capabilities.