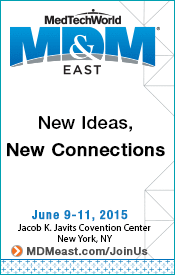 MD&M East (Medical Design & Manufacturing) connects the brightest minds at the East Coast's largest Medtech Event on June 9, 10 & 11, 2015. The leaders of the medical and specialty device manufacturing fields are supporting innovation and evolution in the marketplace.
Enhance your knowledge and understanding of the latest industry innovations and emerging technologies including: contract manufacturing/manufacturing equipment/cleanroom & sterilization/design services/medical grade materials/electronic components/packaging & labeling/3D printing and more.
You will find resources to solve your toughest medical device design, engineering, prototyping, manufacturing, assembly and packaging challenges. Whether you have an active project or an upcoming project, you're certain to find what you need.
To this end, special conferences and exhibitions are organized to bring all of the most important players together. This speeds development processes, connects critical knowledge base carriers together and dramatically assists innovation.
Medical Design & Manufacturing East (MD&M East) has developed an ongoing approach to keep this connection between groups of medical device development professionals adding to the inspiration, partnerships, education and technologies needed.
Market leadership for injection molding processes and specialty medical and other device manufacturing will be presenting at this event by hosing booths focused on providing services to ease and support the device manufacturing process.
Take advantage of this opportunity to have face to face meetings, access to more information and expertise about the latest technologies, materials and equipment. Some highlights of this event include conferences with hands on interactive educational sessions for design innovations, process validation, technology and 3D Printing.
The Medical Design Excellence Awards (MDEA) recognize the most significant advances in medical product design and engineering that improve the quality of healthcare delivery and accessibility. Winners in 10 categories will be announced on Tuesday – June 9, 2015 at 4:00pm.
Your badge will provide access to other related manufacturing events happening at the same time:
Atlantic Design & Manufacturing
EastPack
HBA Global
ATX East
Pharmapack North America
PLASTEC East
Quality Expo
Crescent Industries an employee-owned custom injection molder that is FDA Registered and ISO 13485:2003 certified. To provide their customers with an integrated single source solution, they offer Design & Development solutions including 3D printing. All of their new injection mold builds follow the SPI Class 101-103 guidelines in a variety of sizes and configurations. Crescent provides several plastic injection molding services including clean room injection molding to manufacture medical devices and components. To complete your project, they offer contract assembly and packaging services. Look for Crescent Industries at Booth #1039.