The Problem: An Innovative Labware Product Meets Traditional Barriers

A global OEM and existing Crescent Industries customer needed to increase production of their in-vitro diagnostic labware product, a 96 microwell plate—a common fixture in pharmaceutical, clinical, and life science research labs.
In contrast to the standard well plates available from other OEMs, this one is not a single solid piece, but thirteen injection-molded parts assembled together: 12 microwell strips of 8 microwells each are inserted into a base tray.
The OEM's existing—and very labor intensive—manufacturing process hindered production of this crucial diagnostic tool. With demand already outgrowing production capacity, and increasing market share driving forecasted volumes even higher, this labware OEM turned to Crescent and automation to boost production volume while keeping production costs down.
The Challenges of Automating a Completely Manual Workflow

Crescent needed to redesign the OEM's whole process in order to increase throughput, starting with the injection molding of the tray and microwell strips.
The real obstacle to scaling up production, however, lay in the sequence of manual post-molding operations:
Carefully removing the plastic parts from the mold

Staging and orientating the molded parts for assembly

Inserting 12 microwell strips into each tray

Visually verifying that all microwells have been correctly and completely inserted

Stacking the finished assemblies in preparation for sleeve packaging
Manual assembly and inspection steps don't scale well, so to contain production costs, full automation was clearly necessary. Fortunately, Crescent designed an end-to-end solution for all those tasks: a lean, automated work cell solution joined to two optimized presses.
Crescent's Solution:
Press-to-Packaging Custom Automation & Dedicated Work Cell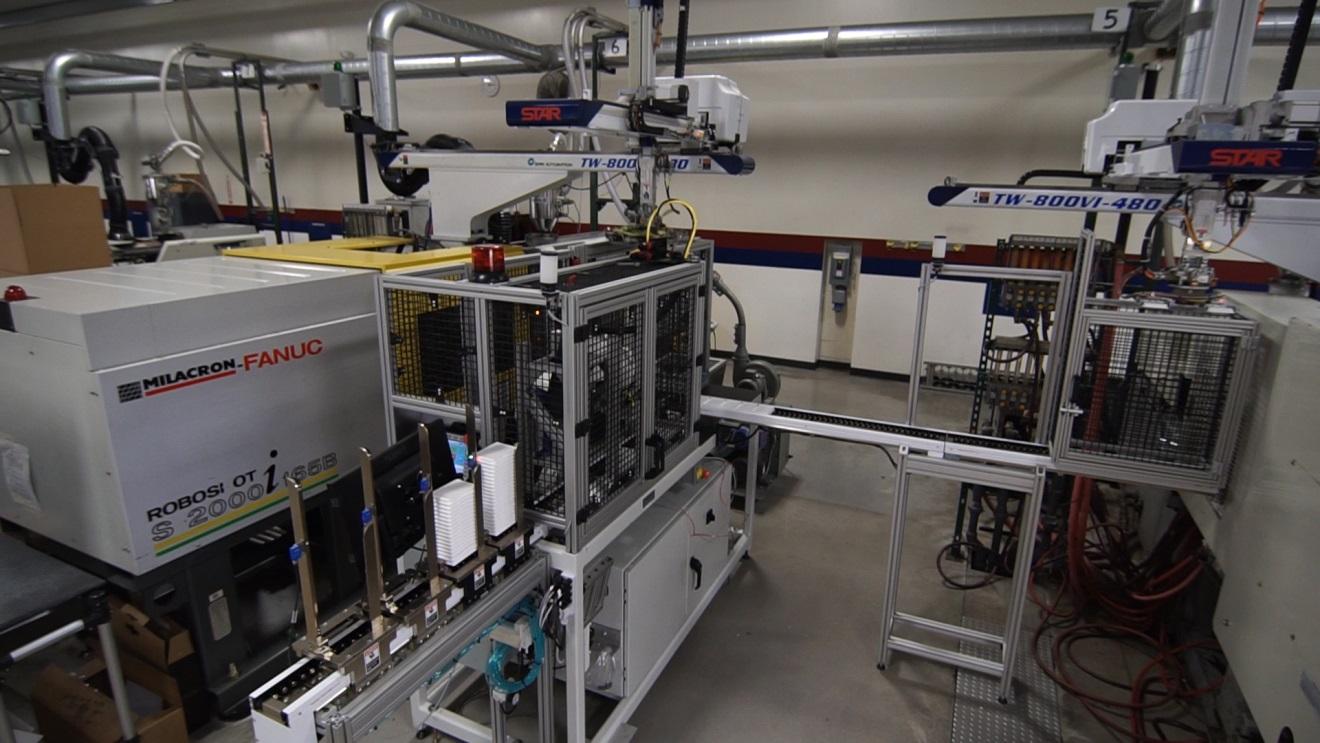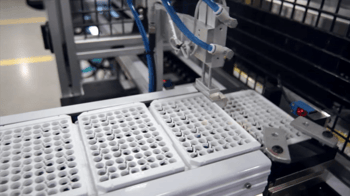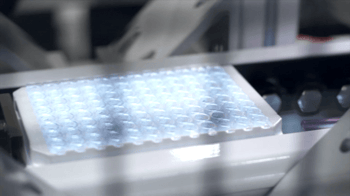 By collaborating with an outside automation partner, Crescent's internal automation team designed a custom, fully-automated work cell for producing the complete diagnostic well plate assembly.
To design and implement that work cell, Crescent assembled a cross-functional team of automation, molding, and engineering personnel to discuss possible lean work cell setups. Meanwhile, the tooling team began machining two injection molds: a two-cavity mold to produce the base tray, and another 16-cavity mold for the microwell strips, an improvement from the OEM's previous 8-cavity tray mold.
More cavities in the molds required more tons of clamping force from the presses, so Crescent dedicated one 200-ton injection molding machine to each mold.
The work cell joins these two molding presses together by a conveyor system. The tray mold produces two 96-well trays, while the other produces 16 microwell strips of 8 microwells each to fill both trays.
Syncing the molding cycle times with automation proved critical for enabling both presses to run simultaneously to prevent parts from piling up on the conveyor. Crescent equipped two five-axis robots (one for each press) with custom EOAT (end-of-arm-tooling): grippers and suction cups to remove the parts from the mold and place them for assembly. One robot places the trays on a conveyor where they are precisely staged as they await the microwell strips to be inserted by the other robot. The assembled microwell plates are then automatically moved to the integrated camera inspection system that verifies that the bottom of the microwell is present in each of the 96 positions on the tray. After passing inspection, the assemblies then move to an upstacker for preparation for the final sleeve packaging.
Case Study Summary:
Increased Throughput, Decreased Costs
A strong partnership between the OEM and full-service contract manufacturer, Crescent Industries, resulted in a highly automated work cell that exceeded the customers' expectations. Their success proves that lean techniques, plus the use of automation and robotics at the press, produce the best results for the high volume manufacturing of medical components and devices.
Crescent's fully automated, world-class work cell resulted in a savings of over 17% a year for their OEM. In addition to producing 1 million assembled well plates per year, this work cell lends itself to further automation expansion should the customer's demand ever increase beyond the current requirements.
The OEM's diagnostic assembly can now be delivered to more customers, in more laboratories, helping to advance the pace of drug discovery, medical breakthroughs and innovative new medical technologies.