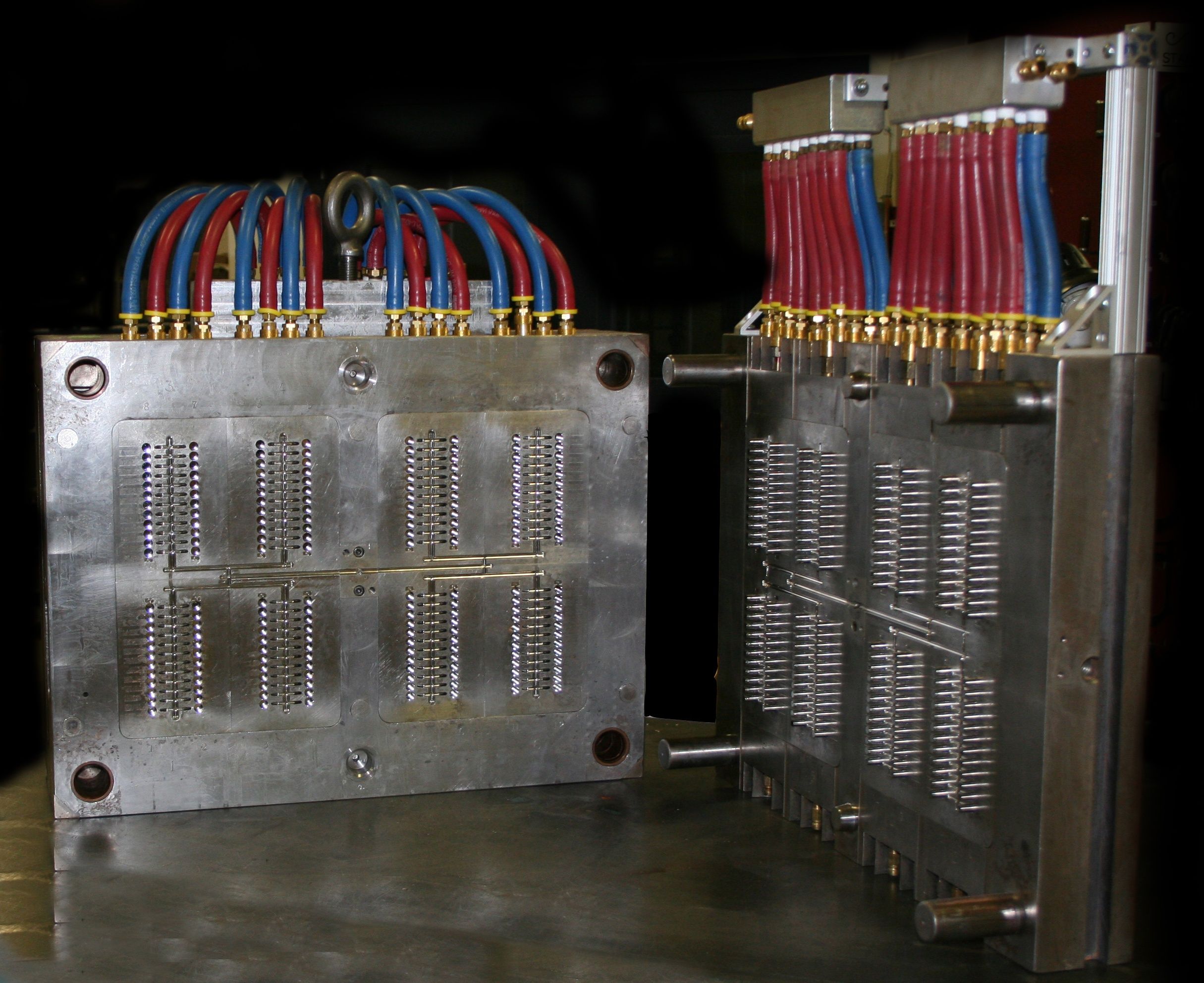 (Updated April 2019)
When it comes to injection mold building, strong engineering capabilities, technologies and journeymen tool makers provides options and solutions to customers to help mitigate the risks associated with the most difficult aspects of part and mold design. A quality injection mold that is designed to optimize cycle times and reduce mold downtime will quickly pay for itself during production runs.
Thus, it is critically important to work closely with your injection mold builder from the beginning of your project to manage risk while helping keep the mold build on its timeline as well as on budget.
Technologies, Equipment and Personnel Achieve High Quality Molds
Tooling engineers utilize technologies to develop 2D and 3D computer generated files of injection molds and mold fill simulation software to create mold designs with proper actions, runners, gates, venting and cooling to achieve reliable and consistent plastic components. From these 2D and 3D injection mold models detailed tool paths are created for specialized CNC machining.
CNC high speed machining centers and EDM's are using this software and other advanced technologies to help journeyman tool makers manufacture injection molds with enhanced accuracy, efficiency and precision. This provides an almost unlimited geometry which has become good news for the production of complex plastic components.
An injection mold building tool maker's job requires advanced training to calculate the feeds and speeds required to make precise cuts with drills, end mills and other sophisticated CNC cutting tools - a job that requires a 4 to 5 year apprenticeship program, and significant on the job training.
Injection Mold Building and Tooling Classifications
The Society of Plastics Industry is responsible for establishing the customs and practices of the injection mold makers industry. This society classifies injection molds to help eliminate confusion and create uniformity between mold types in the mold quoting system which increases customer satisfaction. These classifications are Class 101, 102 and 103 and are discussed in more detail below. It is important to understand the differences between these 3 classes when sourcing tooling.
Class 101– is built for high production runs of over 1 million or more cycles. This is the highest priced mold and is made with the highest quality materials. Mold base should be a minimum hardness of 280BHN and molding surfaces (cavities and cores) must be hardened to a minimum of 48 RC. Steels moving against one another should be dissimilar and have a hardness differential of at least 4 Rockwell. Temperature control provisions are to be in cavities, cores and slides wherever possible.
Class 102– is built for medium to high production runs - not to exceed 1 million cycles. These molds are good for abrasive materials and/or parts requiring cost tolerances. This is a fairly high quality mold as well as being relatively high priced. This mold base should also be a minimum hardness of 280BHN, and molding surfaces (cavities and cores) will be hardened to a minimum of 48 RC. Temperature control previsions should be in cavities, cores and slides wherever possible.
Class 103 – is built for medium to low production runs of fewer than 500,000 cycles. The mold base should be a minimum hardness of 165 BHN and cavity and cores of 280BHN or higher.
Different Types of Injection Molds
The selection of the type of injection mold needed depends completely on the customer's requirements and product specifications; below is more detail on the various mold types.
MUD units: these are standard frameworks for tools, allowing for custom machined inserts for specific components.
Unscrewing Molds: these are sometimes used when the plastic parts have details like threads or ridges that cannot be easily injected using the standard knockout methods. These parts are carefully unscrewed from the mold to avoid thread damage. For this to be cost effective - these complex molds need to move at high speeds and clear previously molded parts efficiently in order to begin the next cycle. These types of molds are good for products like medical syringes, vials, caps and connectors.
Action molds:these molds have some sort of mechanical action incorporated in the design to enable molding of complex parts and detailed geometry like a hole, slot, undercut or thread that is not perpendicular to the parting line of the mold.
Hot runner molds:are typically more expensive to manufacture but allow savings by reducing material waste, cycle time and labor costs. These types of molds can produce more complex components while providing a variety of gating options that improve part quality.
Three plate molds: these molds have a runner plate in between a moving half and a fixed half. These molds have two parting lines and are utilized for their gating location flexibility.
Family molds:family molds are used when all the products being manufactured are from the same material. These help to eliminate color matching problems because the products are manufactured at the same time. It is important with these molds to have proper flow balance, runner shutoffs and additional cooling circuit control.
Find the Right Injection Mold Partner
There are many injection mold tooling partners to choose from so it is imperative that you do your research to identify the right one! Below are a few topics to discuss with potential sourcing partners:
Tooling options and experience: look for a sourcing partner that offers a broad range of tooling options; the right sourcing partner will have extensive experience with the various tooling and material options offered. Also, you need to partner with an injection molder, such as Crescent Industries, who has Design for Manufacturability expertise; this simply means the tool design and manufacturing teams are integrated to allow manufacturability issues to be identified and addressed during the design process instead of after the tool is fabricated – saving significant tooling development time and cost!
Materials: There are many different materials that can be used in the tooling process depending on the type of tool required, as well as the timing required. The most common materials used in tooling include: aluminum, steel, cast iron, carbides, and composites (REN). Certain supply partners specialize in the different material types, so it's important to know what your potential supply base is capable of, and also what they specialize in.
Volume Capabilities: In order to be cost-effective, the design of injection molding tooling should be based on the anticipated volume of parts the tooling needs to produce – not significantly more or less. If this rule of thumb is not adhered to, you will develop a tool that is not optimized for your volume needs and you will likely pay too much for tooling, especially in the case of designing for too high a volume.
Quality and turnaround time: Last but not least, you need to understand the timeline for making tools – the fastest tool maker is not always the right choice as oftentimes quality is sacrificed in order to make tools quickly. Take your time to find a sourcing partner that produces quality tools in a reasonable timeframe.
At Crescent Industries, we leverage our expertise as injection molders and our advanced technologies and equipment to produce quality injection molds for plastic components. We follow the SPI guidelines for mold classifications in a variety of materials and configurations.
For additional information, please fill out the form below to get our white paper "10 Factors that Impact Tooling Costs".