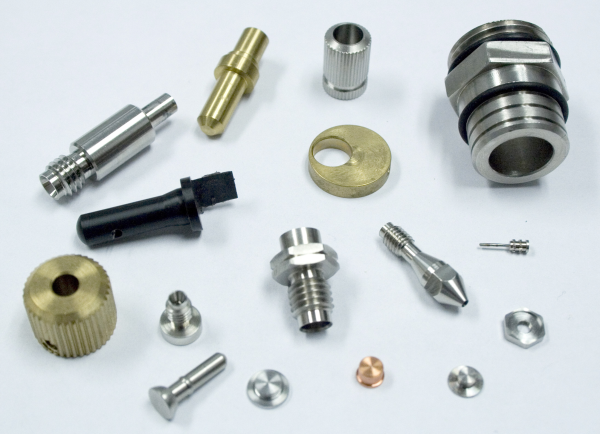 When it comes to Swiss screw machining, Swiss turning is required to make the small, slender, complex and precision components. This is only possible because of this machine's unique design.
For a Swiss turning machine - the bar-stock material is gripped tightly. Then it is advanced by the sliding headstock. It then travels through a guide-bushing into the machining section.
Tips for Materials to Use:
Aluminum
6061 Aluminum is heat treatable, weldable, and formable. Corrosion resistant. Often used within electronic hardware.
7075 Aluminum has high mechanical properties offers improved stress corrosion, cracking resistance, increase strength – Suitable for components for aircrafts.
Plastic
Acetal provides high-strength and stiffness. It gives enhanced dimensional stability and ease of machining with good wear properties, especially in wet environments.
Delrin is used a lot for insulators or bearings and has good machinability properties.
PEEK has excellent chemical, thermal and water resistance. It maintains a high heat resistance strength and excellent radiation resistance. It is excellent abrasion, shock and fatigue resistance.
TEFLON has outstanding chemical and weathering resistance and UV stabilized.
Nylon has good machining properties and used for insulators, bearings etc.
Stainless Steel
17-4 Stainless Steel has excellent corrosion resistance and is heat treatable used in many medical or aerospace applications needing corrosion resistance and hardness.
303 Stainless steel is used for electronic hardware, automotive, aerospace, medical instruments and many applications requiring corrosion resistance.
304/304L stainless steel provides better weldability and formability and is slightly more corrosion resistant.
316/316L stainless steel has even better corrosion resistance and used for medical implants, surgical instruments and aerospace applications.
347 stainless steel offers good mechanical properties at high temperatures used for high temperature products like gaskets, rocket engine parts, expansion joints, aircraft collector rings, exhaust manifolds, chemical production equipment.
416 stainless steel can be heat treated so it can be used for applications that need less corrosion resistance and more hardness.
420 stainless steel can be hardened through heat treatment and is good for shear blades, needle valves, dental and surgical equipment, pump shafts etc.
Carbon Steel
1215 carbon steel has low carbon content. It is used in applications that require close tolerances and various types of threading applications. Some of these products include bushings, inserts, couplings, pins, studs and screws.
12L14 carbon steel is essentially 1215 in which lead has been added to improve machinability. It is used for bushings, inserts, couplings etc. It is suitable for parts involving bending, crimping or riveting.
1018 carbon steel is a low carbon steel that can be hot rolled or cold drawn. Cold drawn 1018 will improve size tolerance and enhance the surface. 1018 carbon steel offers good strength and ductility. It is used in a variety of applications like fasteners, bolts, pins, rods and structural type parts.
Brass / Copper
Brass 360 material is a copper-zinc-lead alloy. It is used in electronic hardware, contacts, fittings and numerous other commercial products.
Copper has excellent electrical conductivity and is used for electrical contacts.
Alloy Steel 8620 is heat treatable and used to machine parts for higher stress applications which require the strength of an alloy. Providing extreme hardenability and internal strength, structural parts such as gears, pinions, spline shafts, and pins are often manufactured from this steel.
Titanium is a high strength, light weight, good biocompatibility material and is used for medical implants.
Molybdenum – excellent heat resistance, used for heating elements, missile and aircraft parts, as well as having nuclear energy applications.
Nickel
C752 Nickel material is an 18% nickel silver alloy combining corrosion resistance with strength and a lustrous silver color. Applications include optical frames and parts, spring, surgical instruments, resistors and contacts.
Monel 400 nickel material has high strength and excellent corrosion resistance over a wide range of temperatures and conditions. Used for products like valves, pumps, shafts, marine fixtures, fasteners, electrical and electronic components
Crescent Industries specializes in tight tolerance/high surface finish Swiss screw machined components. They have experience in exotic materials and can do runs from moderate to high volume.