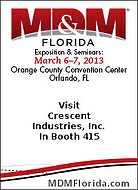 Lifesaving innovation begins at MD&M Florida at the Orange County Convention Center in Orlando on March 6 & 7, 2013. MD&M Florida will help to connect inspiration, partnerships, education and technologies that drive medical device innovation.
You will find resources to solve your toughest medical device design, engineering, prototyping, manufacturing, assembly and packaging challenges whether you have an active project or an upcoming project, you're certain to find what you need. For example:
Assembly and Automation Solutions
Cleanroom and Sterilization
Contract R&D, Design , Engineering
Manufacturing Partners
Electronics, Components, Subassemblies
Sophisticated Medical Grade Materials
Medical Packaging
Testing, Inspection, Quality Control Products and Services
Plus much more!
The seminars taking place at MD&M Florida include two hour sessions as an interactive program. The seminar sections which include FDA & 510K Update, Innovations in Implantable Devices, Achieving Speed to Market, Medical Devices with Batteries, New Materials: Selection and Qualification and Combination Products. You will hear real-world studies to illustrate key concepts and get insider insights from industry experts.
MD&M Florida attendees can also explore the co-located events at no cost. These co-located events include the following:
ATX (Automation Technology Expo) – this is geared towards maximizing your productivity and profitability in any industry by the latest technologies which include robotics, motion control, vision, rapid prototyping, custom assembly and automation, materials, software and more!
Design & Manufacturing South section will show CAD/CAM & Rapid Prototyping, Contract Manufacturing, Enterprise Technology Software, LaserTec, PrecisionTec and Quality.
South Pack - this is the packaging resource that gives you the opportunity to see the newest technologies & equipment first-hand, meet suppliers and compare solutions.
Plastec South - the latest in plastic processing solutions including primary processing machinery, computer aided design and manufacturing, production machinery, materials, molds and mold components, automation technology, materials handling/logistics with a full range of contract service providers.
AeroCon – this is geared toward manufacturing and design for the aerospace and defense industries. Accelerate your industry knowledge through face to face interactions and learning the latest technologies and marketplace insights spanning materials, robotics, automation, testing, electronics, software and more!
Crescent Industries a custom injection molder and mold builder for the medical, pharmaceutical, dental, defense, aerospace, electrical/electronic and OEM industries will be exhibiting at Booth #415. Please click here to learn more about Crescent's services and capabilities.
To learn more about the MD&M Florida Show or to register to attend, please click here.