(Updated June 2019)
Increased speed, increased repeatability and increased efficiencies…are those the only benefits behind automation? While just those three should be enough to justify the leap into heavily implementing automation into a medical injection molding process, there's more to it than just a financial investment. The mindset of the team has to shift into an adaptation of technology to assist, not replace and the project must justify the investment.
For the past 20 years Crescent Industries has undergone that shift as they have stayed at the forefront of technology in medical injection molding and continue to adapt to the advancements each year.
When Does It Make Sense to Automate?
Each project in medical injection molding has it's CTQ (critical-to-quality) dimensions, throughput requirements, function and physical appearance standards. Not every project is a fit to setup automation or invest the resources, therefore reviewing the requirements upfront can start you down the path of determining the role automation will play and to what extent.
With all of the automation options available this can be an overwhelming task, OEM's should be relying on their injection molding supplier to bring the options available to them for discussion. Based on the project requirements, this can get you into a general category of automation level for that project.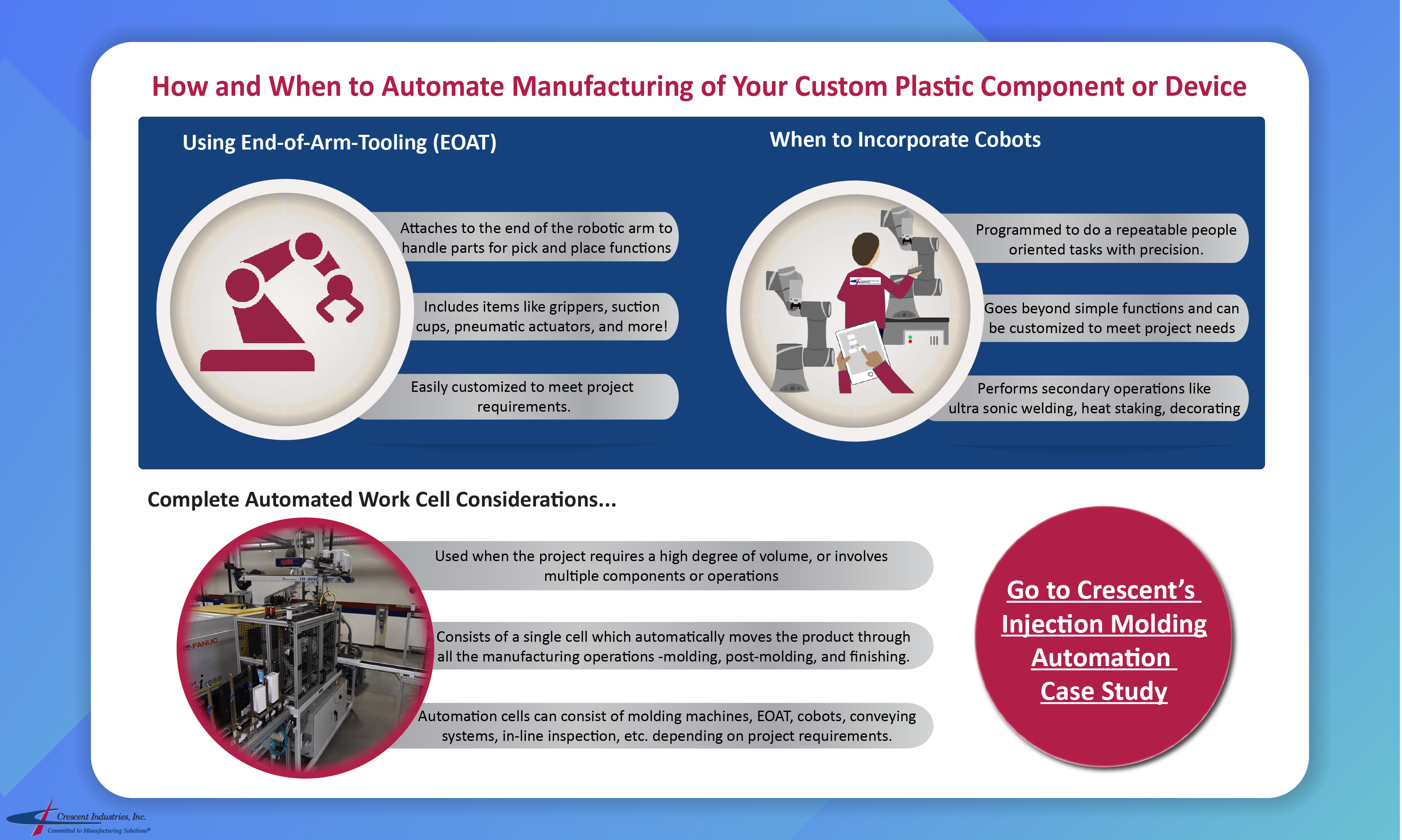 Is End Of Arm Tooling (EOAT) enough?
The most basic definition of EOAT is something that attaches to the end of a robotic arm. This generic definition is most commonly referenced throughout the injection molding industry when talking about a 3 axis robot on a machine. This EOAT attaches to the end of the robot and when the molding cycle is complete, the robot enters between the mold halves, the EOAT picks the part off of the mold and exits the machine allowing it to begin the next molding cycle.
This general usage of EOAT is the most common, but certainly not the limitations of EOAT. Over the past 10 years, EOAT's have been advancing and pushing the traditional limits of the role they play in automation. As in-mold labeling began to arrive on the molding scene, EOAT's were developed to place the label in the mold pre-cycle then remove the finished product and place the next label. By customizing the EOAT there are almost endless possibilities of what you can accomplish through some preferred component suppliers and a creative engineering department.
Through the advancements of 3 axis, 5 axis and 7 axis robots over the past 5-10 years, this has provided different levels of rotational axis points for the equipment but still requires an EOAT to handle the product. Whether it's a simple gripper, suction cup or pneumatic actuation through custom designed multi-phase and multi-functional EOAT's, you still need something to handle the part.
Depending on the complexity of your project, you can get away with the most basic pick/place type of robotics and simple EOAT. This is the most common type of robotics used in medical injection molding with quick change overs and simple programming, each machine is equipped to handle a large variety of applications. Customized end of arm tooling for the project is simple to change over on a machine and at Crescent Industries they make most of it internally through their full in-house tool department.
Cobots – When Do You Need Them?
Becoming more popular over the past 10 years in medical injection molding, collaborative robots (cobots) have changed the human level of interaction with robotics. Traditionally a robot in injection molding acted autonomously or with limited guidance, they were programmed to do a repeatable task with precision and it was very straightforward. As robotics have been advancing, the cobot was introduced to have direct interaction with a human in a shared workspace. These cobots have the traditional guards removed allowing a much closer interaction on the molding project and process.
When a project's automation requirements go beyond a simple pick/place type of setting, the cobot can be implemented to take over those people-orientated tasks that don't require a high level of skill or thinking. In the medical injection molding environment, cobots are often used to move components from one location to another for a secondary operation. Whether this secondary operation is heat staking, ultrasonic welding, testing, assembly or placing on a conveyor, the cobot fits in perfectly with its smaller footprint.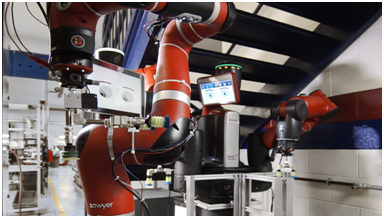 For more advanced medical injection molding projects that require a high degree of precision and maximum throughput, the cobot is great solution to turn to. The cobot can be the middle ground between a simple EOAT solution and a more complex fully automated work cell.
What is the tipping point for complete automation?
Projects that require a higher degree of volume, complexity or multiple operations for completed assembly are typically the starting point of evaluation on a complete automation line. When reviewing a project with multiple components or steps, the automation must be available to efficiently complete the product. This can typically remove the need to putting sub-assemblies into WIP (work-in-process) and bringing back out for final assembly.
In an ideal situation, all facets of the product can be assembled or performed in a single cell moving the product through the steps of manufacturing. Once the core parts are molded, completing secondary operations through the use of cobots and finished assembly the production efficiencies will be at the maximum levels. If any other components are required for the assembly, automating the pre-staging of those components will be necessary to have uninterrupted flow of product.
By utilizing the secondary operations equipment in conjunction with the robots, cobots, conveyors and vision equipment, the full automation route is the best choice for high volume or multi-step products. In some instances, a QRM (quick response manufacturing) cell approach is more ideal for full automation but this is initially dependent on the volume of product. See another article here for further explanation.
At Crescent Industries, we're continuously investing into our robotics technology to increase precision and throughput for our customers. Every project is carefully analyzed with our engineering team to determine how much automation is required to achieve our customers' goal, whether that's a simple EOAT, through the usage of cobots and fully automated cells. As a top ranked medical injection molding supplier, we are setting the bar as a trusted supply chain partner.
For additional information, please click below to read our white paper "Tips to Assist You in Selecting an Injection Molding Partner".