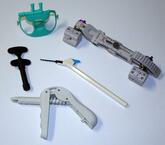 Plastic suppliers have been increasingly responding to the needs of medical device manufacturers' requirements of lightweight, aesthetically pleasing, but strong materials for their devices and components. They are responding to the movement toward smaller products and handheld devices. As well as, addressing the problem of breaking down from the chemicals and cleaners used to disinfect them.
Polycarbonate Various Grades and Fillers
Polycarbonate is impact resistant, clear, high heat resistance resin. This resin has dimensional stability, is resistant to UV light, and has flame retardant properties. Gamma and EtO sterilization can be done. Ultra sonic welding can be used with this material. Typical applications include reservoirs, artery cannulas, high-pressure syringes, stopcocks, centrifugal force separators, lures, blood filter housings and dialyzer housings such as glucose meters, pumps, insulin pens, surgical device handles and housings.
Glass filled polycarbonates are increasingly being used in the design and manufacturing of medical devices and equipment housings. These glass filled blends provide structural support, durability and compatibility with several devices because they have the same structural support of traditional materials like metal. However, the parts can be made smaller and thinner reducing the weight of the part and providing ease of use. These resins are injection molded into handheld surgical instruments to diabetic monitors to insulin pens where stiffness, design flexibility and aesthetically pleasing appearance are required. These resins are available with different amounts of filler and used in a variety of applications. The intended function will determine the amount of glass filler used and outside factors like pressure or force that will be exerted on the product, the environment in which the product will be used and the desired life of the part or device.
Makrolon Polycarbonate resin is lightweight and has glass-like transparency. Medical grades can be sterilized using steam, gamma or ethylene oxide methods. This material has an unusual combination of strength, rigidity and toughness that helps prevent potentially life-threatening material failures. It has excellent heat resistance with a glass transition temperature. It provides glasslike clarity, a critical characteristic for clinical and diagnostic settings were visibility of tissues, blood and other fluids are required.
Polyethylene
Polyethylene resins have low heat deflection temperatures making them unsuitable for steam and autoclave sterilization. Applications and uses include containers, packaging films, pouches, lid stock, breather patches and headers for bags.
Polystyrene
Polystyrene material is a colorless hard plastic with limited flexibility. It is transparent and can be created in various colors. It is economical and used for producing plastic assembly kits and other common objects where a rigid, economical plastic is desired. This material is not recommended for steam and autoclave sterilization.
Medical Grade Ultem
Medical Grade Ultem resins are manufactured into durable healthcare applications where ranges of sterilization methods are needed. This material is chemical resistance to lipids and disinfectants. It has high heat resistance that sustains physical properties at elevated temperatures, exceptional resistance to environmental forces and inherent flame resistance with low smoke evolution. It also maintains a high mechanical strength and dielectric strength and stability, which makes it an excellent electrical insulator. It is available in opaque and transparent colors.
Ultem 1000 is resistant to UV and gamma radiation and performs especially well in hot air and in water environments. It is FDA compliant and its standard color is amber.
Ultem 2300 is a 30% glass reinforced grade of Ultem. This provides greater tensile strength and rigidity. It also delivers improved product dimensional stability. Its standard colors are green and tan.
Specialty Polymers
Specialty polymers are higher performance than conventional resins. Polysulfone (PSU), polyphenylsulfone (PPSU), polyarylethereketone (PAEK), polyetheretherketone (PEEK), polyarylamide (PARA) and other advanced polymers offer better mechanical performance. These resins have a broader chemical resistance, higher thermal properties making them flame retardant, without the need for additives. These materials can also endure a range of sterilization technologies like steam, ethylene oxide, vaporize hydrogen peroxide and high-energy gamma radiation. These resins offer all the benefits of plastics vs metal like consolidating components, mold complex components and eliminate secondary operations. Due to their high performance properties puts them on par with many metals and often positions them as viable alternative. This is happening in single use and reusable instrument applications such as retractors, impactors and other surgical instruments undergoing hundreds of sterilization cycles within in their service lives.
Partner with Crescent Industries for expert advice for you plastic medical device or components.
Sources: Medical Device and Diagnostic Industry Magazine article "New Plastics Adapt to Changing Medical Needs" contributed by Frank Vinluan / Medical Device and Diagnostic Industry Magazine article "The Benefits of Glass Filled Resins" written by Cheryl Weckle / Medical Design & Outsourcing Magazine article "What high-performance polymers drive growth in speciality healthcare applications? Written by Jeff Hrivnak